If you don't already have some familiarity with MARC catalog records, the following page at the Folger Shakespeare Library provides a good, concise overview:
Through LOUIS, MARC records for electronic resources, such as electronic journals and eBooks (acquired through ongoing subscriptions, perpetual access purchases, EBA and CDA programs) get loaded into sites' Symphony catalogs. This may either happen through scripts maintained by LOUIS, which automatically load MARC records from EBSCO on a regular basis, or by working directly with the site to load them for special projects, such as Evidence-Based Acquisitions (EBA).
In any case, it helps to be familiar with the contents of certain MARC fields in these records when troubleshooting any number of issues.
Below is an explanation of some of the content you can find next to certain tags:
001/003
The OO1/003 tags are generally used for the OCLC control number for a record, as in the example below.

However, they can also indicate an EBSCO MARC record that was loaded through Holdings Management by LOUIS-maintained scripts when the title control number begins with "ebs".

022
The 022 tag indicates the ISSN number for a serial. In the case of electronic journals that get loaded through LOUIS-managed EBSCO MARC data loads, this number can be used to quickly pull up a title in Holdings Management or Publication Finder.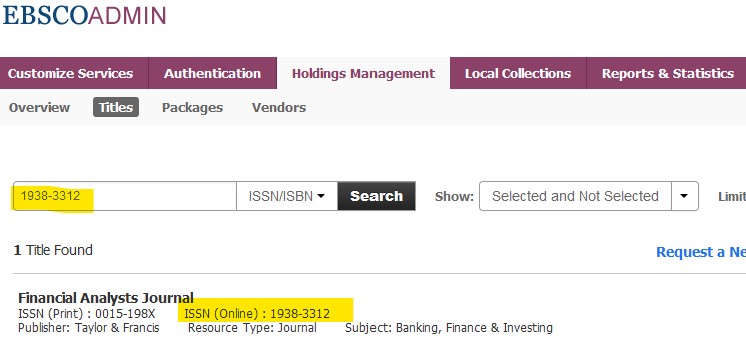 035
The 035 tag is a system control number and is defined for local use. In the case of EBSCO-delivered e-journal records, the number will usually match what is found in the 001.


099
LOUIS uses the 099 (Local Free-Text Call Number) field to indicate that a resource is available online in lieu of displaying an actual call number.

336/337/338
Some records will have a 336, 337, and 338 tag. These work together under the RDA standard to more accurately describe both the content and manifestation of the item. Most RDA records for LOUIS electronic resources will have tags that look like the example below.

655
The 655 (Index Term--Genre/Form) tag is sometimes used to identify eBooks. EBSCO Discovery Service (EDS) can be set up to use this field to distinguish electronic book records in search results from other formats in the EDS database copy of your Symphony catalog.

773
The 773 (Host Item Entry) tag is often used to identify the Holdings Management package(s) in which a title is selected within EBSCOadmin.

776
The 776 (Additional Physical Form Entry) tag can sometimes be found in records for electronic books and journals to provide information about the print version of the title, including publication information and ISSNs and ISBNs.

856
The 856 (Electronic Location and Access) tag provides the URL used to access the title. For records loaded through EBSCO Holdings Management, these URLs utilize a link resolver, which facilitates navigation to resources from various vendors through EBSCOhost. They will not include your proxy prefix because they refer to your customer ID and proxy info at EBSCO.

For records loaded by LOUIS for programs such as Evidence-Based Acquisitions or Perpetual Access purchases, these links will usually include a direct URL to the resource on the vendor's site that includes your proxy prefix.

965
The 9xx fields are not part of the standard MARC 21 format. Some are used by the Library of Congress and some internally by OCLC. The rest are open to local use by libraries.
LOUIS assigns a 965 anytime records are loaded for special programs like Evidence-Based Acquisitions (EBA), or Curriculum-Driven Acquisitions (CDA), especially when titles are meant to be used as course texts.
If the record has been loaded by LOUIS staff, the 965 will look like this:

However, if a site has loaded titles funded by these programs themselves, LOUIS still recommends adding a 965 with at least subfield "e" present. More information about that can be found here.
LOUIS Staff Please Note: The contents of the article are duplicated in the ER L1 Moodle Course. If updates are made to this article, please duplicate them in Moodle.