LOUIS now offers six professional development courses through Moodle in three areas: System Administrator training, Electronic Resources Administrator training, and Digital Privacy training.
These courses are reserved for LOUIS members. All LOUIS members can take the Level 1 Sys Admin, Level 1 ER Admin, and Digital Privacy courses. The Level 2 and Level 3 Sys Admin, and Level 2 ER Admin courses are reserved for the points of contact in those areas for each library.
To register for any of these trainings, fill out this form
Here is information about the contents of each of the courses we offer:
ILS System Administrator Training
The three Sys Admin training courses are designed to improve System Administrators' skill with Symphony Workflows, Enterprise, and BLUEcloud Analytics. Each course involves going through trainings created by SirsiDynix through their Mentor training program and selected by LOUIS. Courses contain videos, quizzes, exercises, readings, and other materials that increase in difficulty as the user progresses through the beginner, intermediate, and advanced levels.
To complete the ILS Sys Admin trainings, you will access SirsiDynix Mentor through an account local to your institution. We will send you the login information when you enroll for the course.
Beginner Systems Administrator Training
The Level 1 Sys Admin course covers the following topics:
Working with LOUIS as a system administrator
Symphony WorkFlows:

Beginner and advanced search strategies
Managing user records
Circulating items
Original Cataloging
Cataloging Basics: Call Number and Item Maintenance
Administration: Properties and Toolbars
Administration: Library Calendar Configuration
Administration: Format Policies
Administration: Item Types, Loan Periods, and Locations
Administration: Staff Logins and Access
Reports basics
The approximate time it takes to complete this course is 5-6 hours.
Intermediate System Administrator Training
Note: due to restrictions on access to vendor administrative portals, the intermediate and advanced level courses will be open only to the designated LOUIS System Administrators.
The Level 2 Sys Admin course covers the following topics in Symphony WorkFlows:
Managing user records
Circulating materials
Modifying due dates
Label designer steps
Discarding items
Overrides
Customizing policy lists
Making items circulate
Billing and penalty
Holds
Holding codes
Retrieving monthly statistics
Creating custom notice text
As well as the following in Enterprise and BLUEcloud Analytics:
Enterprise end user training
Enterprise administration training
Enterprise Admin Overview/Quick Reference
Enterprise End User
BLUEcloud Analytics training
User login types in BLUEcloud Analytics
BLUEcloud Analytics Introduction for Reporters
The approximate time it takes to complete this course is 6-8 hours.
Advanced System Administrator Training
The Level 3 Sys Admin course covers the following topics in Symphony Workflows:
Holds (blanket holds, onshelf holds, cancel a hold, clean the holds shelf)
Recalling items
Smartport
Working with authorities
Properties and toolbars
Public and special user configuration
Staff logins and access
Batch loading and removing users
Symphony administration configuration
Processing long overdue and unwanted materials
Bibload Reports
Holding Codes
Edit Bibliographic Data Globally
As well as topics in BLUEcloud Analytics:
Builder reports
Modifiers
Viewing and exporting reports
Subscribing to reports
Formatting reports
Joins
The module's training videos alone total over 6 hours of viewing time, not to mention reading material and taking the quizzes.
Additionally, the Level 3 Sys Admin course also requires students to complete a capstone project. This capstone project will demonstrate some form of mastery over any aspect of ILS System Administration (Symphony, Enterprise, BLUEcloud, MarcEdit, etc.), while providing something of value to the LOUIS community. The student will coordinate with the LOUIS Staff to give a presentation, write an article, or lead a discussion about an ILS topic for the LOUIS community.
Electronic Resources Administrator Training
Beginner Electronic Resources Administrator Training
The beginner ER Admin Training takes students through fundamental concepts for Electronic Resource Librarians. It is open to anyone in the LOUIS Consortium. It includes lessons on:
Working with LOUIS
Working with Consortia Manager
Understanding knowledge bases, holdings and ERMS
Administration and Contacts
Licensing
Reports
Troubleshooting
Cataloging.
The approximate time it takes to complete this course is 5-6 hours.
Intermediate Electronic Resources Administrator Training
The intermediate ER Admin Training course was designed to help librarians gain core competencies for Electronic Resources Librarians as identified by the NASIG Core Competencies Task Force (NCCTF). It includes training on:
Managing the electronic resources lifecycle
Navigating vendor platforms
Research and assessment
Technology.
This course is reserved for those who are electronic resources points of contact at their libraries in part because it requires that they have administrative access to their library's electronic resources accounts.
The approximate time for completion of this course is 6-8 hours.
Digital Privacy Training
The Digital Privacy Training course serves as an introduction to the issue of privacy in libraries for library staff with a focus on digital technologies and other issues that concern academic libraries. This course is composed of the following five modules:
Libraries and Privacy
Privacy Risk and Mitigation Strategies in Library Systems and Operations
Privacy and Library Vendors
Privacy and Public Computers in Libraries
Privacy Concerns for Academic Libraries
The approximate time for completion of this course is 4-5 hours.
Completing a Course, Badges, & Certificates
At the beginning of each class, students will take an assessment in the skills covered in that class in which they rank their ability on a scale of 1 to 100. At the end of the class, they will repeat this assessment. If they score a 70 or above on every skill, they have passed the class. If a student receives lower than a 70, LOUIS staff will work with them on the skills they need to improve until they achieve an understanding of that skill.
Shortly after a student passes each course, they will receive two things: A digital badge and a certificate, each indicating that they have received credit for the course.
The digital badge will be delivered through Moodle. Students can also keep track of their badges in Badgr. For more information about adding LOUIS badges to Badgr, check out this article. We also keep a list of those who collected badges in our points of contact page.
The Member Services Manager will send you a certificate via email. You can use this certificate as proof of credit for your tenure file, annual review, or other portfolio.
Here is what each badge and certificate looks like (size scaled to fit this space)
ILS System Administrator Training Level 1/Beginner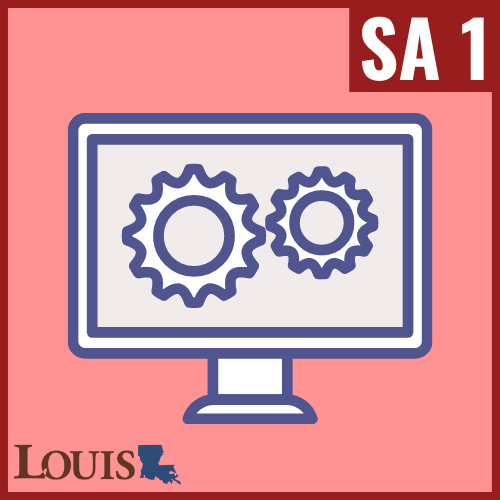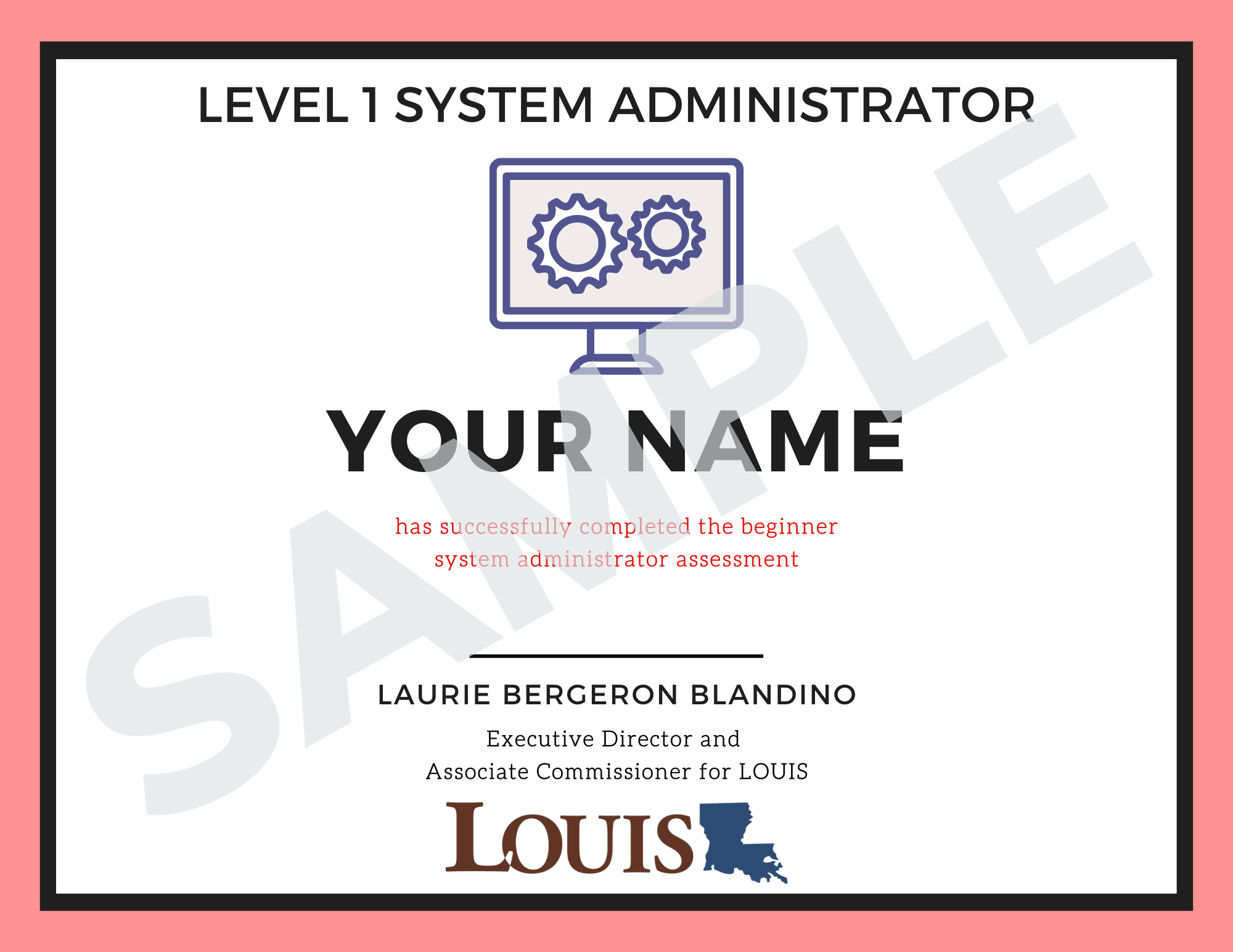 ILS System Administrator Training Level 2/Intermediate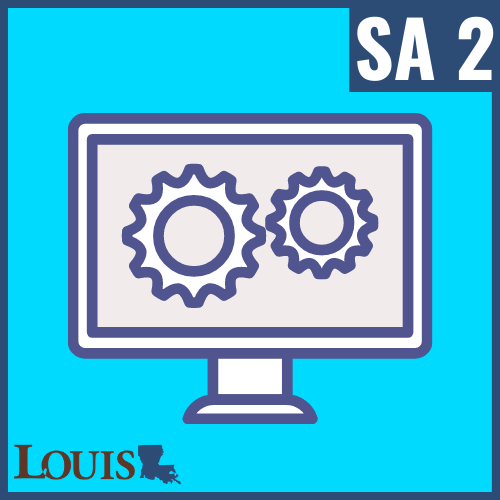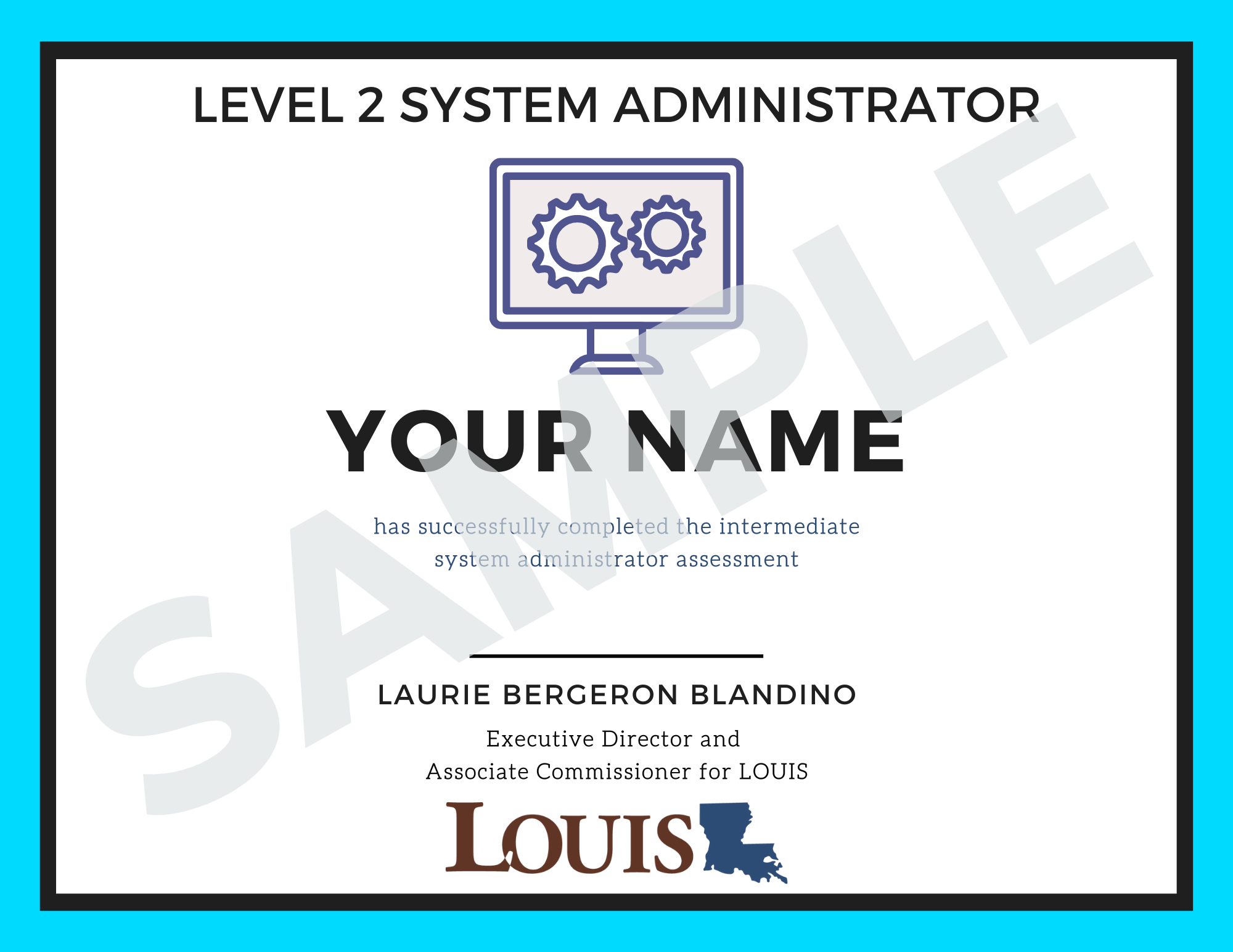 ILS System Administrator Training Level 3/Advanced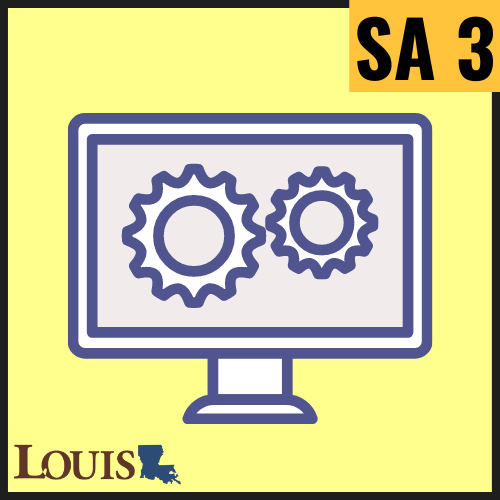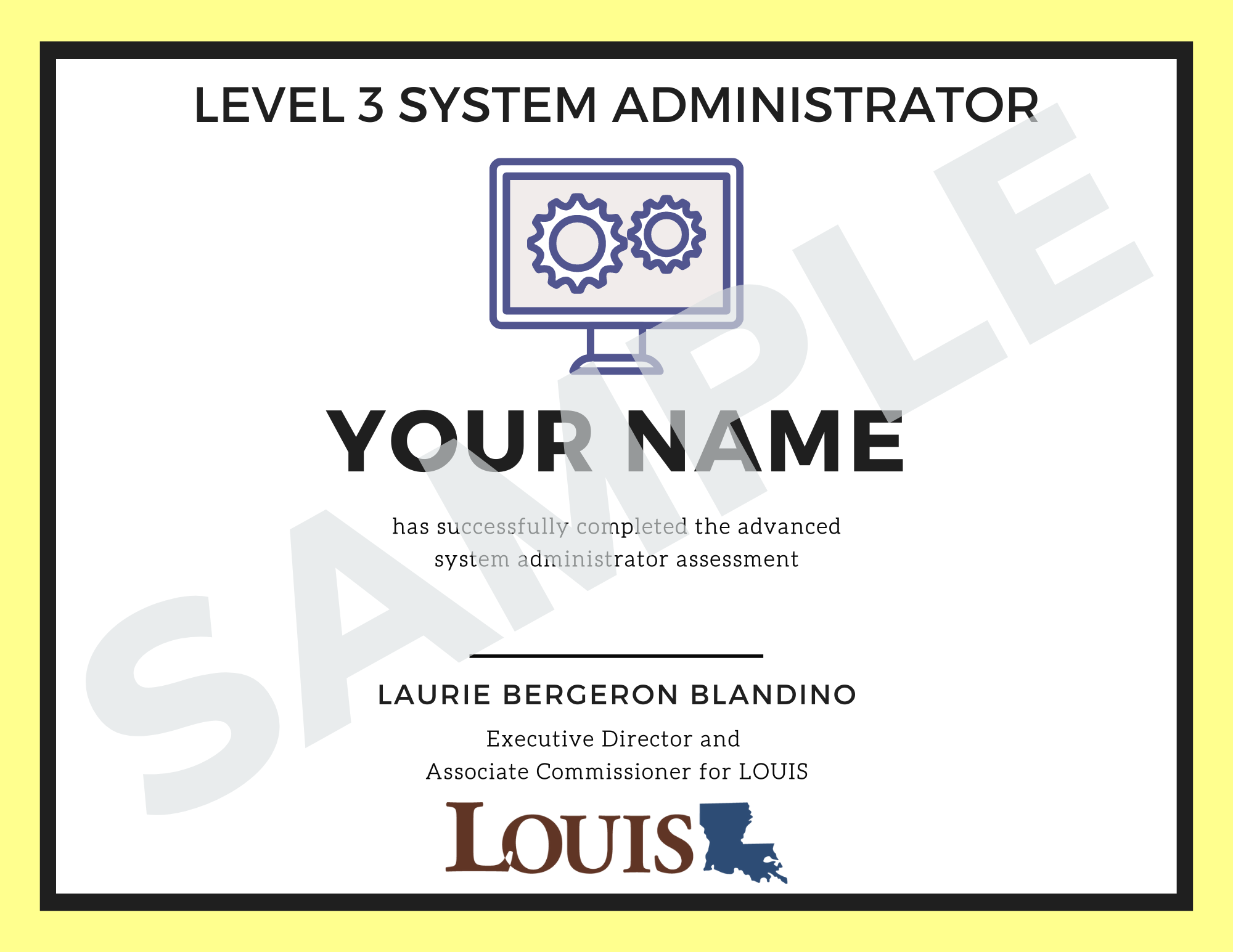 Electronic Resources Administrator Training Level 1/Beginner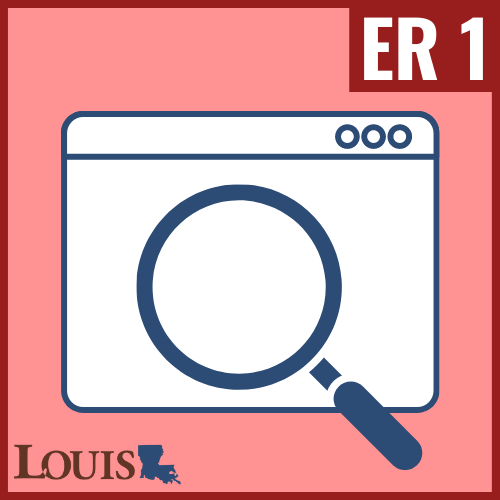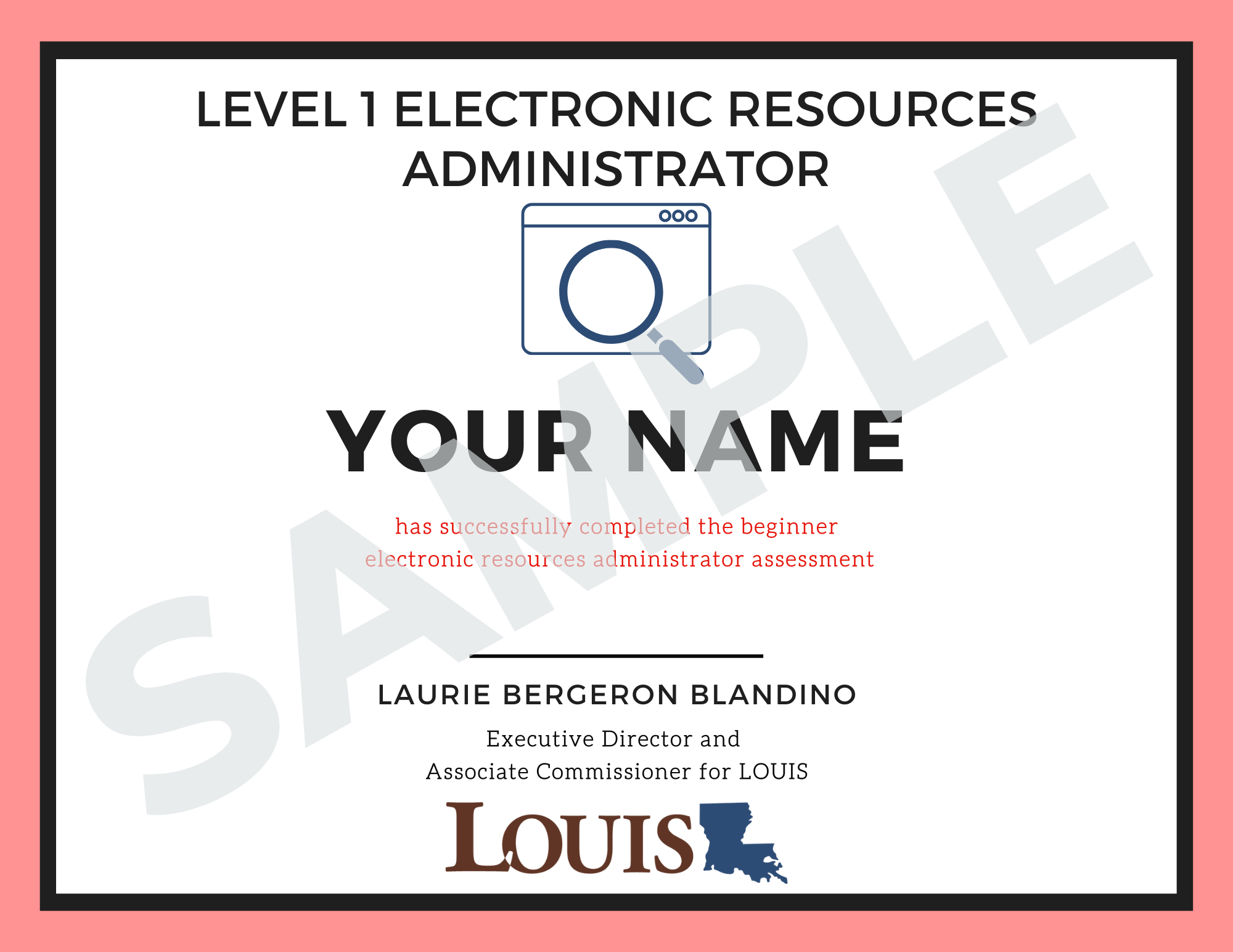 Electronic Resources Administrator Training Level 2/Intermediate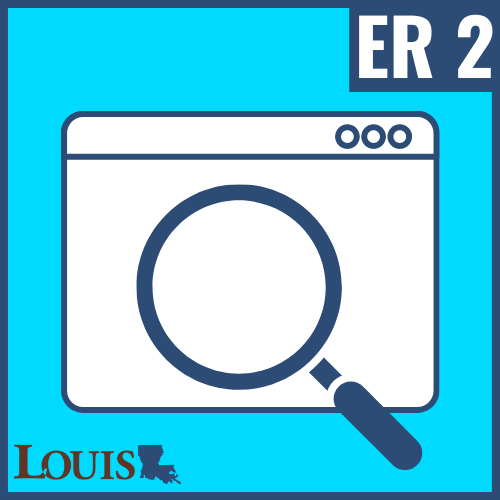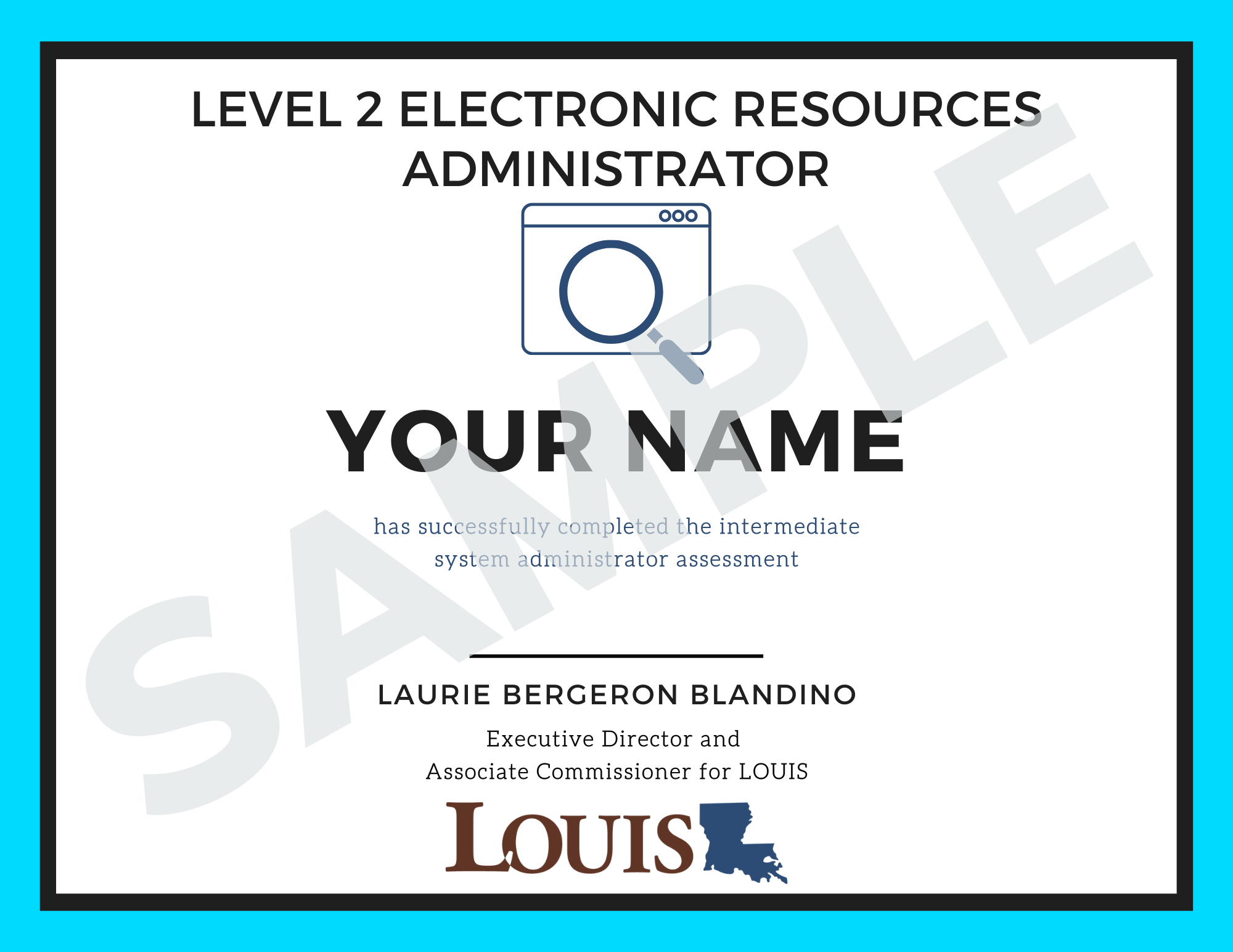 Digital Privacy